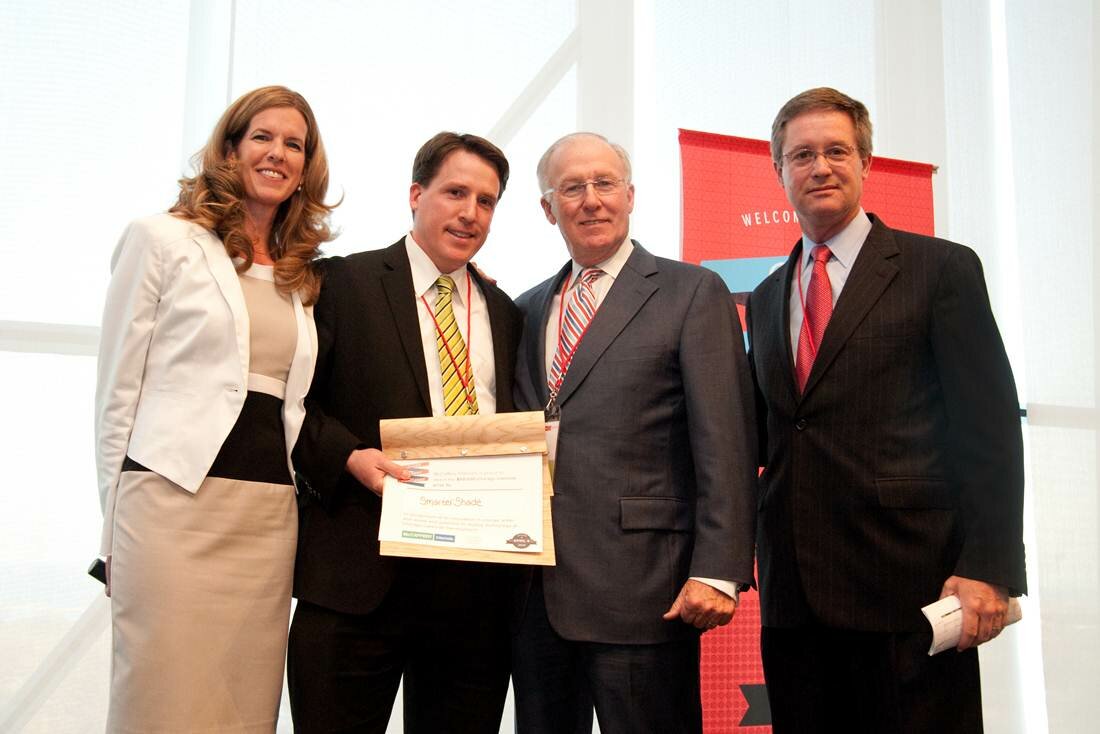 The Chicago Lakeside Development, a joint venture of McCaffery Interests and U.S. Steel Corporation, presented early-stage startup SmarterShade with the inaugural Lakeside Award for clean-tech innovation and commercialization at the third annual Clean Energy Challenge in Chicago. The award comes in the form of a $50,000 grant to be used by SmarterShade, enabling further research, application and execution of their go-to-market strategy.
Seventeen finalist teams assembled in Chicago at the Clean Energy Challenge to present their ideas to a diverse panel of venture capitalists, energy executives and technology experts for significant funding opportunities. Previous Challenge finalists have raised more than $30 million in funding, hired dozens of employees and deployed clean-tech pilot projects across the Midwest.
"The Challenge is designed to uncover the very best in clean energy technology startups and kickstart their development," said Clean Energy Trust executive director, Amy Francetic. "These prizes will help these entrepreneurs to move their technologies out of the laboratory and into the marketplace, helping the nation to continue to grow its burgeoning clean energy economy."
SmarterShade, a company based in South Bend Indiana, developed a patented film based daylight management platform that enables any window to go from clear to dark with the touch of a button for light, heat and privacy control. The innovative technology can be applied as both a retrofit or new-construction solution, and results in energy efficiency gains of up to 40 percent.
"This award targets solutions that complement the Chicago Lakeside vision for new concepts in the development of clean, sustainable sources of energy, water and waste," said Ed Woodbury, President of McCaffery Interests. "The SmarterShade solution provides an actionable technology that integrates with and can be readily deployed at Lakeside."
"Windows have traditionally been the weakest link in the building envelope in terms of energy efficiency," according to SmarterShade CEO, Mike Stacey. "Traditional window treatments re-radiate heat into a room and have little to no impact on solar heat gain. According to the DOE, 'Smartglass' or dynamic glazing solutions can save as much as $10 Billion annually on heating, cooling, and lighting costs."
The third annual Clean Energy Challenge was hosted by the Clean Energy Trust, a Chicago-based public-private partnership created to accelerate the development of Midwest clean energy businesses by connecting entrepreneurs, researchers and early stage companies with the expertise and capital needed to become sustainable. In total, the Clean Energy Challenge awarded $300,000 in cash awards to student-led and early stage startup ventures to fund further research in several exciting energy technologies. Clean Energy Trust is also a member of the Chicago Lakeside Development.